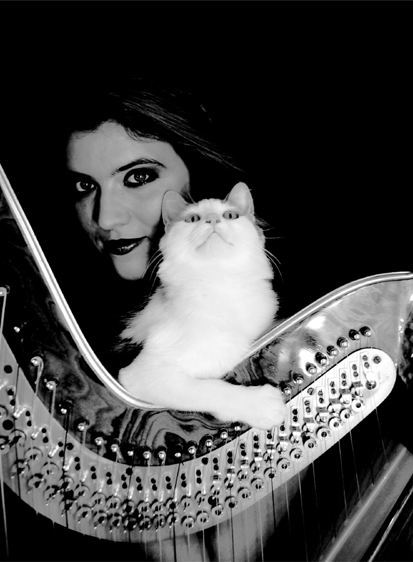 Sara Terzano, harpist

biography
Sara Terzano, italian harpist and composer, graduated from the "Conservatorio Statale di Musica G. Verdi" in Turin, Italy. Here she studied with Gabriella Bosio where she obtained the "M. Vico prize" for best graduate. She received a scholarship from the "Associazione per la Musica De Sono." She completed her studies with Francis Pierre in France, Paris at "Ecole Normale de Musique Alfred Cortot," where she received the "Diplome Supérieur d'Execution de Harpe" in 1996. She obtained numerous national and international awards, among which the 1991 edition of the National Concour of Harp V. Salvi in her category.
Since 1989 she has been perfecting her studies in Italy with Giuliana Albisetti, Fabrice Pierre, Elizabeth Fontan-Binoche, Elena Zaniboni, Maria Oliva De Poli and Luisa Prandina, and in Madrid (Spain) with the Russian harpist Tatiana Taouer. In 1998 she attended the High Specialization Course in the Orchestra Profession in the Filarmonica della Scala Accademy (principal conductor Riccardo Muti) including soloist performances.
In 2001 she graduated with full marks in Architecture from Turin Polytechnic with a thesis on the relationships between "music and space" specializing then in Museography.
Sara Terzano is an accomplished concertist who frequently performs as a soloist and in differenet chamber music groups, preferably involving architectural, historical and environmental contexts. She also plays the celtic harp following its traditional repertory. Sara Terzano is always experimenting with new repertories and new formations, she also writes compositions and transcriptions.
She has played as principal harpist in numerous orchestras at concerts, tournèes, live and studio recordings with: Orchestra Filarmonica di Torino, Orchestra del Teatro Regio di Torino, Orchestra della Svizzera Italiana, Orchestra del Teatro Petruzzelli di Bari, Orchestra Sinfonica della Moldavia, Compagnia d'Opera Italiana, Orchestra Filarmonica Italiana, Orchestre de l'Harmonie della Valle D'Aosta, Assieme strumentale del Sermig, Gruppo Cameristico Gamut and Alchimea.
In 1994 she started a collaboration with "Teatro Regio di Torino", the "Egyptian Museum" and later, with the "Museo Regionale di Scienze Naturali" to design and implement concerts, workshops and didactical material.
Sara Terzano was responsible for organizing conferences on the theme "Music, Art and Architecture" involving the creation of texts, images and musics.
In 2000 she recorded the unpublished harp solo music cd "Note per un viaggio immaginario" and the harp and flute cd "A Merit: Concerto di flauto e arpa" (distribution Videoradio-Fonola); in the same year she took part as a harpist in Dario Argento's movie "Nonhosonno".
In 2005 she played in Lugano (Switzerland) at Martha Argerich Project organized by Radio Svizzera Italiana in the "Lugano Festival Musica", recorded and trasmited on Swiss national radio, Radio 2.
Actually she is Harp Professor (Alta Formazione Artistica Musicale MIUR) in Conservatorio di Musica "A. Vivaldi" in Alessandria (Italy); since 2003 to 2010 she has been Harp Professor in Conservatorio Statale di Musica "L. Canepa" in Sassari, in 2011 in Conservatorio di Musica "G. Verdi" in Como, since 2011 to 2015 in Conservatorio di Musica "Nino Rota" in Monopoli in traditional Course and specialistic two-years courses with Staff Training in Royal Academy of Music and Trinity College of Music in London and in Conservatoire Royal de Bruxelles.